Functions of municipalities and joint municipal authorities
Healthcare and social welfare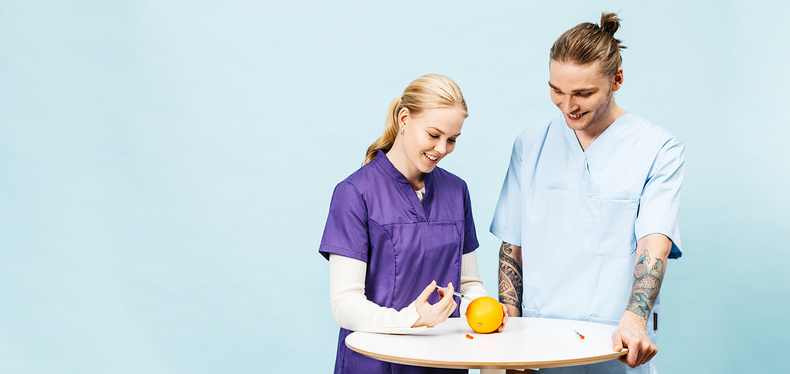 Healthcare and social welfare are the most extensive local government functions and a central part of the Finnish system of welfare services. Everyone has a fundamental right to healthcare and social welfare services, and local authorities have the statutory responsibility to organise the healthcare and social welfare services prescribed for them by law. They may provide the services either alone or secure them from other organisations or private sector providers.
Healthcare services are financed through taxes, and a nominal client fee is charged for a visit to the health centre and for a stay in hospital. The Finnish healthcare service system has proved to be cost-efficient and of high quality, and it enjoys wide public support.  
Healthcare services
In Finland, healthcare and social welfare services are largely developed as a single entity. Municipal public-health work is the foundation of the Finnish healthcare system.
Local authorities provide primary healthcare. They run 131 health centres, 75 being municipal health centres and the rest belonging to joint municipal authorities, which are established by two or more municipalities. Seven regions have integrated primary healthcare, social welfare services and specialised medical care under one roof.
Preventive healthcare plays an important role in the Finnish healthcare system. The services of prenatal clinics and child health clinics, for instance, are available to all families free of charge. All mothers of newborn babies receive a maternity package or its value in money. Environmental health care is part of preventive primary healthcare.
Alongside municipal healthcare, there is an occupational health services system financed by employers and the State, and it is responsible for much of the healthcare for the workforce. Finland also has a relatively extensive system of private medical services, and the Social Insurance Institution of Finland (Kela) pays reimbursement for part of the fees charged for these services.
Hospitals are run by joint municipal authorities
Hospitals run by joint municipal authorities provide 95 per cent of all specialised medical care; the remaining 5 per cent is provided by the private sector. Every local authority is required by law to be a member of a joint municipal authority administering a hospital district. There are 20 hospital districts in all.
Medical advances and growing skills demands together with increasingly limited resources have increased the need for cooperation and division of responsibilities between hospital districts. There are 13 hospital districts which offer extensive round-the-clock emergency services, that is, joint primary care and specialised medical care emergency services, which cover 10 to 12 medical specialities. The other hospital districts will offer treatment for the most common illnesses and joint round-the-clock primary care and specialised medical care emergency services spanning the most important medical specialities. Demanding elective treatments are being concentrated in fewer hospitals. Health centres will arrange emergency reception on week nights and at weekends during the daytime.
Treatment time guarantee ensures access to health care services
Finland has a system of a treatment time guarantee, which ensures that patients are able to reach a health centre without delay during weekday office hours. In practice, this means service and guidance by telephone. The need for treatment is assessed within three days from when the patient first contacted the health centre. Any treatment found to be necessary must be started according to the urgency of the illness, but within three months at the latest.
The need for hospital treatment must be assessed within three weeks. The evaluation may be based on a referral, or the patient may be asked to come to the hospital for an assessment. If a physician decides that the patient needs hospital care, treatment must be provided within six months.
A patient can reach a health centre without delay in cases involving oral health care as well. Treatment must be arranged within reasonable time and in any case within six months.
Health and social services reform
In Finland, as in the rest of Europe, the population is declining and its average age is increasing. The change in age ratio weakens public finances and poses challenges to the financing and organisation of public services. Throughout the 2000s, Finland has sought to reform healthcare and social welfare.
The Government has started preparations for the health and social services reform according to the Programme of Prime Minister Sanna Marin's Government. The reform will transfer the responsibility for organising health and social services to a new regional tier of administration, to be named 'wellbeing services counties', which will be larger than municipalities.
You can read our presentation on the reform, which includes the organisation, goals and timeline of the reform, as well as the functions and financing of the new wellbeing services counties.
Services for foreigners
Everyone who is staying in Finland has a right to emergency health care. Emergency medical care must be provided for patients who need it regardless of their place of residence. Urgent cases include cases involving an injury, a sudden onset of an illness, an exacerbation of a long-term illness, or a deterioration of functional ability where immediate intervention is required and where treatment cannot be postponed without risking the worsening of the condition or further injury.
Social emergency services must provide clients with urgent and necessary help as referred to in Section 29 of the Finnish Social Welfare Act. In urgent cases, the social emergency services must contribute to arranging the necessary psychosocial support.
The citizens of EU Member States have the right to seek treatment in Finland, as laid down in the Directive on the application of patients' rights in cross-border healthcare. Please check the implementation of the Directive in your home country.
https://www.eu-healthcare.fi/healthcare-in-finland/i-want-to-seek-treat…
Treatment abroad
The Act on Cross-Border Health Care gives Finnish residents a right to seek treatment in another EU or EEA country or in Switzerland. You are free to seek and use healthcare services abroad. You may seek both primary healthcare and specialised medical care services and you are also entitled to treatment for a chronic condition.    
Purchasing medication abroad
If you intend to purchase medication in another EU or EEA country, ask your doctor to provide a medical prescription for purchasing medication abroad. Electronic prescriptions are also valid in Estonia and Croatia. If you wish to purchase prescription medication outside the EU and EEA countries, you normally need a prescription issued by a local healthcare professional.
https://www.eu-healthcare.fi/health-services-abroad/i-want-to-go-abroad-for-treatment/