InnoSI - Innovative Social Investment
As part of the InnoSi project, the Association of Finnish Local and Regional Authorities published together with Turku University of Applied Sciences a foresight handbook titled "From Signals to  Future Stories". The handbook delves into the theory and practice of futures research by introducing a three-phase foresight process in the field of welfare.
From signals to future stories
The handbook presents people centric future stories for the year 2027. These stories are about the daily life and well-being of four European citizens: William, 81 years of age, Heidi, 50, Laura, 29, and Assim, 38.
William (age 81, year 2027)
At 81, William has lots of contemporaries. The baby boom generation born after the Second World War has made its mark on the European welfare societies. Like many others who have passed their 80th birthday, William lives independently and copes in his daily life with the assistance of technology and his community. A new drug introduced to the market has considerably slowed down the progress of Alzheimer's. 
During weekdays, William has breakfast with a family that lives next door. The arrangement is favorable for both parties, since William keeps the family's children company before they go to school. The children enjoy their time with William, since he likes to tell them not only about his life but also about the developments that revolutionized Europe. The fall of the Soviet Union and the breakdown of the Berlin Wall are history too ancient for the children. However, the migration throughout the 2010s and 2020s is something the children like to ask questions about, since their circle of friends consists of children from over a dozen nationalities. The children find it hard to believe that this was not always the case.  
William keeps in touch with his own family primarily through virtual means, which is easy thanks to the modern devices that utilize artificial intelligence and speech recognition. William's children have organized a weekly family dinner over the Internet. This livens up William's daily routines and offers William's children and grandchildren living abroad an opportunity to get a glimpse of their old home country.
Technology makes William's daily life easier. William, a bit amused, recalls how at first he was opposed to the care robot offered by a nurse, because the robot provides unparalleled assistance and helps him cope at home. The robot administers his medications and reminds him of regular mealtimes and other daily chores. William uses a meal scanner to check the energy content and nutritional value of the portion he prepares himself. In particular, William likes the applications based on machine learning, since they adapt to his daily routines.  
Heidi (age 50, year 2027)
Ubiquitous computing has influenced the daily life of people and changed the power relationships in and between organizations and people. Defining network surveillance and the rights of individuals has become a topic on political agendas around Europe. For the 50-year-old Heidi, this development has created new interesting but challenging job opportunities.
In particular, Heidi is interested in ethical and legal questions related to data ownership as well as the risks posed by network environments on human rights. Heidi is concerned about the power of information networks: they make it possible to bypass the principles and institutions of the constitutional state and to administer "justice" online through the power of the masses. Related to these questions, Heidi is involved in several projects and has several sources of income, such as a part-time attorney's position in a global human rights organization, public sector consulting projects, and her own company, which offers legal advice online. Work is fragmented, but for Heidi, being able to work flexibly and to do so in accordance with her own values is important. 
Heidi and her family live in an energy-neutral eco-building, in which the latest solar energy technology is used in the cladding and roof materials. The house has a separate, soundproofed room for evening and weekend work, since Heidi and her surgeon husband both work partly from home. Technology has made it possible for a surgeon to perform most routine operations remotely. Tax reliefs have been introduced on remote work, since it facilitates the balance between work and family life and reduces commuter traffic.
 Heidi has absorbed the philosophy and understanding of one shared world. She knows that mitigating climate change is the greatest global challenge of her generation. Heidi's environmental awareness is not limited to accommodation and transport, but she keeps a close eye on her family's carbon footprint and also pays attention to the family's eating habits. When it comes to meals, Heidi has two principles she tries to hold on to: on one hand, she prefers locally produced food instead of food from global food companies and retail chains, and on the other, she strives to choose products that she knows burden the environment as little as possible. In addition to nurturing the environment, Heidi justifies buying foodstuffs that are fairly heavy on the wallet by their health
Laura (age 29, year 2027)
Urbanization has been rapid, and in 2027, more than 65 per cent of the world's population live in cities. In many areas experiencing depopulation, this development has resulted in diminished living conditions. There are also exceptions in this overall development, since not everyone wants to live their entire life in crammed and expensive cities. Twenty-nine-year-old Laura is one of the many people who enjoy the rural peace and quiet more than the hustle and bustle of a city. Together with her husband, Laura has settled in an area where the population development is negative. Laura and her husband operate a pet boarding facility. 
She has been happy to notice that she is not the only one who enjoys the countryside, but the environment also attracts pensioners. The main customers of the boarding facility are well-to-do returnee pensioners, whose cats and dogs need short-term care and also increasingly often longer-term boarding services while their owners spend the coldest months of the year in the Mediterranean warmth and sun. The boarding facility is not the couple's only source of income. Laura's husband offers caretaker services to summerhouse owners and helps the elderly in minor renovations and repairs around the house, as well as works as a courier for packages purchased online.  
Laura and her family live in a community-oriented family village established through crowd funding. In the community-oriented village, the principles of the sharing economy are applied to daily meals, and the residents also produce some of their food themselves. In the summertime, the family village offers housing for seasonal laborers, and in the winter, the village facilities house long-term retreats. 
Assim (age 38, year 2027)
Thirty-eight-year-old Assim is from Syria but now lives with his new family in a suburb of a fairly ordinary European metropolis. Assim met his common-law wife through an online dating service. She has two toddlers from her previous marriage. The couple is happy; since they just found out, she is four months pregnant.
After moving from Syria, Assim's view of a family was based on a clear division of tasks between women and men. Assim considered housekeeping and childcare to be women's tasks, whereas men were the ones working outside the home. Assim's values were put to the test when he met his common-law wife with a Scandinavian set of values and when he became acquainted with the public daycare system in his new home country, in which the employment rate of women is high. At the children's playground outside his apartment complex Assim has also met his neighbors who are stay-at-home fathers, and he has been puzzled over how these men manage with their many children. After thinking things over for a while and participating in events organized in connection with the integration activities, Assim was ready to yield a little in his principles. He appreciates his common-law wife working and nowadays participates in cooking, among other things, at home.
Assim knows English satisfactorily and was fairly quickly accepted into a degree program, in which he could continue his studies and graduate as an IT engineer. The degree program based on a social impact bond was implemented in cooperation with a venture capital company, which is part of an international insurance group, and the authorities. Taking an investment risk was worth the company's while, since overall, the degree program turned out to be successful. The majority of students who completed the program were either employed by IT sector companies or established their own business. Although the project incurred expenses, the authorities were also satisfied with the project, since according to estimates, one tax euro invested in the project equals savings of up to three euros in social security costs.
After graduating, finding a job was difficult for Assim. However, he managed to employ himself by establishing a cooperative with his fellow students, which provided them with small customer projects. After the initial difficulties, the cooperative established a clientele. The cooperative provided Assim a flexible form of work, which made him feel useful as a member of society. 
Gradually, Assim became a popular invited guest at local events, where the integration of immigrants was discussed. Assim participates in a working group, which plans a "pop up" entrepreneurship model designed for immigrants, in particular. The group's work is still under way, but the initial trials look promising. The pilot has lowered immigrants' threshold to become entrepreneurs by means of both tax reliefs and temporary legislation, which allows positive discrimination in public sector procurement. In public procurement, special weight can be placed on a company that has been established by and actively employs immigrants.
Back to InnoSI front page
centred-liftup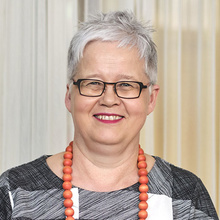 Innovation Adviser
Strategy, Strategy and RDI
+358 9 771 2583, +358 50 520 0385